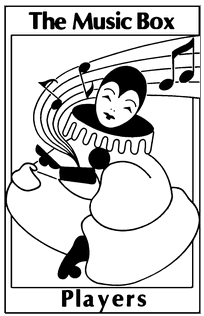 Announcements
Upcoming Auditions!
Production Staff Needed for 2019 Shows!
Support the Father Joe Scholarship for the Summer Theater Workshop
"Theatre of Stars" - an exciting way to show your support of The Music Box!
Local hotels partner with The Music Box to create dinner/show/room packages.
AVENUE
PUPPET RENTALS!
Rent a complete set of Avenue Q Puppets for your next production!
Costume Rentals
Music Box Costume Rental Shop

Theatre Workshops at The Music Box

There are no new adult workshops scheduled at this time.

The Children's Workshop and Teen Theatre Academy will be announced soon!


Young Player Workshops include:





Workshop begins Saturday, June 22 for 3 days a week in the evening,
includes a full week for Tech, and culiminates in performance weekend August 9,10,11!





Workshop begins Saturday, June 22 for 3 days a week in the evening,
includes a full week for Tech, and culiminates in performance weekend August 16,17,18!

Employment

Waitstaff Wanted - Inquire Within