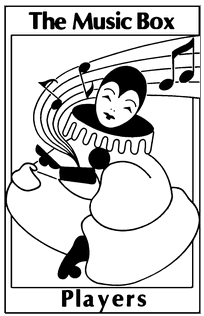 The Music Box Players' Generous Benefactors
The Music Box Players need your help to continue presenting quality theatrical productions!
Make your tax-deductible donation today and have your name featured in every program of the season: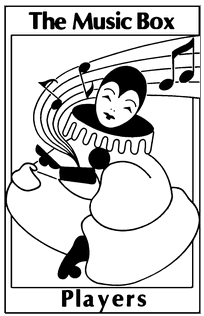 ---
SHOW SPONSORS
($1500 and above)

Dr. Robert & Kelly Bishop
in memory of Dr. Dan Bishop & Devon Lee Bishop

Marilyn Burton

Cynthia & Seth Brandreth

Tom & Joan Lally

Suanne Moses

Maines Source


---
Producer's Circle
($1000-$1499)
---
Director's Circle
($500-$999)

Maureen Reimeller
P&G
Blueberry Hill Webs


---
Rodgers & Hammerstein Circle
($250-$499)
Sultana's Cultural Gifts & Clothing
Arts at Hayfield
John & Eileen Toussaint
Dennis Morris
Ann Bomboy
Kimberly Rose
Shawn Mullen
---
Lerner & Loewe Circle
($100-$249)
Bobbie Shurnicki
Stephanie Orphanella
Robert & Linda Gruner
Louis & Mildred Volpetti
James & Holly Daubert
Ruth & Andrew Logue
Beverly Brennan
Mary Biscontini
James & Evelyn Kersey
David Sweinberg
Kate & Garry Taroli
Eileen Palmer
Jenna Carmichael
Mary Pauline Murphy
Richard Finkelstein
Mary Jo Bath
Allen Woods, DMD
---
Angels
($50-$99)
Michelle Michaels
Francis & Jean Sickler
William & Mary Patton
Ralph Schwartz
Barbara Edwards
William & Joanne Runner
Carol Dural
Marilyn Mazzarella
Robert & Sandra Conway
Betty Flaherty
Alison Taroli Gelsleichter
Patrick Passo
Patricia Moran
Ann Moran Scanlan
Maureen Moran
Kathleen Moran
Tahnee Hines
Michelle Pilch
Jessica Schafer
---
Friends
Barbara Sepko
Robert & Teresa Jankoviak
John Mchugh
Roseanne Kramer
Michael & Sharon Elias
Mark Torbick
Gail & Willard Sickles
Edward Shermanski
Linda & Robert Mitchell
Anne Dragon
Patricia Gregorio
Jackie Nat
Ted Anderson
Theresa Dyanick
[Home]
[Top of Page]
---
©2018 Blueberry Hill Webs. All Rights Reserved.